VBARA SOCIAL COMMITTEE

2014 - 2015
The Social Committee was established by the VBA Executive Committee in February 1995, just a few months after the first residents moved into the village.The first meeting was held with Judy Phillips on February 20, 1995 and its first chair was Carol Stubbs. Initially the committee was responsible for all social activities within the Village and financed its efforts by having a craft and bake sale twice a year. As activity groups were established, they became active in organizing their own events.
However, the Social Committee has continued to organize and host monthly coffee hours, monthly card parties and luncheons and special events.

The first coffee hours and card parties were held in 1995 and took place in the Boardroom in the original sales office. The coffee hours were in addition to those which had been hosted by Orin Reid, and which had been held at the Cutten Club. The first luncheon was in May 1995 at the China Buffet King, located in the Woodlawn Plaza; the price was $7.95. The second luncheon was at Marian's Country Kitchen in Hawksville. The first special event was in December 1995 when an outing to the Theatre in the Trees at the University of Guelph Arboretum was organized.
The Chair of the Social Committee reports to the VBARA Executive Committee,
2014 – 2015 Officers and Committee Members

Note: Committee Members are appointed for a maximum period of three years.
New members and 'helpers' are always welcome.
Speak to anyone listed here if you would like to lend a hand!

Chair
Tony Gibbs
Vice-Chair
John Walker
Treasurer
Carl Scherer

Secretary
Doreen McRitchie
Tree Talk Liaison
Lorraine Johnston
Web Liaison
Lorraine Johnston

Convenors

Card Party

Jan and Aubrey Young
Sandra Hammond


Coffee Hour

Marilyn Anderson  and Debbie Webster
The team members are shown below.

Table Decorations - Coffee Hour

Carolyn Weeks

Kitchen Supplies

Marta Jansen

Tablecloths

Tony Gibbs
Canada Day Celebration

John Walker

TEAM ONE

TEAM TWO

Set-up for Coffee Hour is on Tuesday afternoon at 4:30

On duty; 2014 June, August, October, December (both groups), 2015 January, March, May

On duty: 2014 July, September, November, December (both groups), 2015 February, April , June

Leader:Marilyn Anderson 
519-822-3589

Leader:Debbie Webster
519.265.7807

Sandra Hammond
Ruth Gaetz
Bob Jacques
Marta Jansen
Lorraine Johnston
Do Fraser
Doreen McRitchie
John Walker
Carl Scherer
Aubrey Young
Lilian Henrikson
Doreen Scherer
Jan Young

NOTE: Tony will chair Coffee Hours and Carolyn will provide centre pieces and assist at the door for all coffee hours
COMMITTEE MEMBERSHIP
Term on committee
To 2015

To 2016

To 2017

Debbie Webster
Ruth Gaetz
Carolyn Weeks
Aubrey Young
Jan Young
Lorraine Johnston

Tony Gibbs
Doreen McRitchie
Carl Scherer
Doreen Scherer
John Walker
Sandra Hammond

Do Fraser
Bob Jacques
Marta Jansen
Marilyn Anderson
Lilian Henrikson

Next Coffee Hour is January 14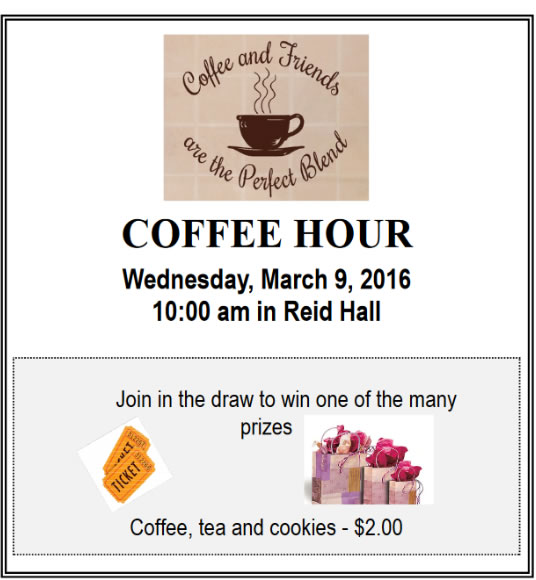 At 10 in the morning, on the second Wednesday of each month, a coffee hour is held in Reid Hall
This is an informal way to enjoy a chat with your neighbours, and to greet newcomers.
All residents of the VBA are invited to attend. It is hosted by the VBA Social Committee.
Coffee, tea, juices and light refreshments are provided. A raffle of purchased items is held.
The cost of each coffee hour is $2.00 per person or free with donated goodies
No response slip is necessay
MONTHLY CARD PARTY
Held on the third Friday of each month.
All residents of the VBA are invited to attend.
Hosted by Sandra Hammond
The card party is held at 7:00 P.M. in Room 126 in the Village Centre.
The cost for each card party is $2.00 per person. Coffee, tea and snacks are provided.
A response slip is required.
It can be found in Tree Talk.
You may choose whether you would prefer to play Bridge or Euchre.
MONTHLY LUNCHEON AND SPECIAL EVENTS: 
The VBA Social Committee arranges events for most months which are held in restaurants in Guelph and surrounding area. Periodically the luncheon is combined with another event such as a visit to a special attraction or to a theatre. The Committee also organizes a Canada Day Celebration, Fashion Show, and a Christmas Luncheon, all held in Reid Hall.
The details for each event appears in Tree Talk along with a response slip that must be completed. It and a cheque must be deposited in the Activity Box in the Residents' Office usually well before the event
Costs for special events vary and on occasion may include the costs of renting a bus.
Tony Gibbs (gynot@rogers.com) will welcome any suggestions for luncheon locations or special events
Events scheduled for the next few months, their dates and locations are shown here
The report of the Happy Hour held December 20
Pictures and the report of the Happy Hour held November 29
Pictures and the report of the visit to the Royal Winter Fair
Pictures and the report of the train ride can be seen here
Pictures from the Crossroads Luncheon can be seen here
Pictures and the report of the luncheon at Chudleigh's Farm can be seen here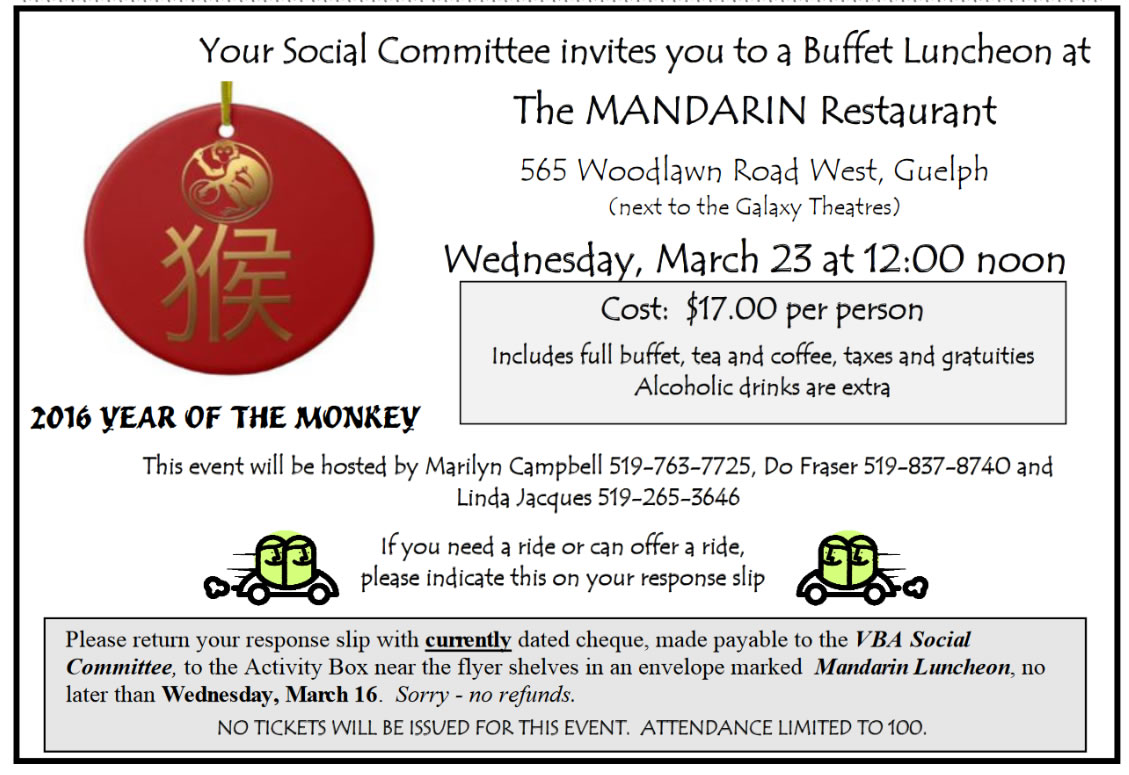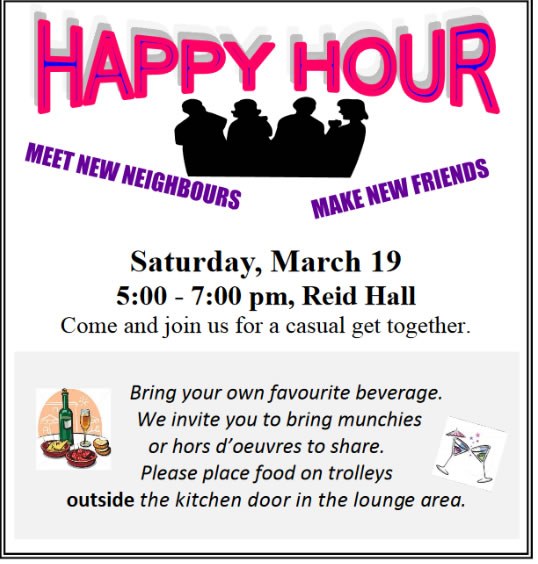 Pictures from past events can be seen here

| | | | |
| --- | --- | --- | --- |
| | | Updated March 23, 2016 | DCM |